Soft Focus Macro
---
This project started from inspiration of two other photographers' images, and looking at the books from Sue Bishop & Christopher Bean. It became clear that flowers can be photographed as miniature architectural
structures, colours, shapes, and dreamy landscapes (flowerscapes) as much as record shots or beautifully lit flowers.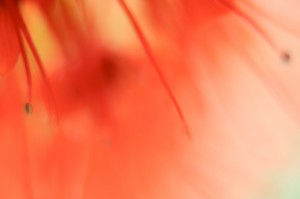 The question was how to approach the opportunity to create something new? The first stage was to come to the realisation that macro photography would give the close-up perspective I was looking for rather than shooting from a distance. After some experimentation it became clear that flash creates great lighting to illuminate the flowerscapes, it can turn petals luminescent, and create shadows of differing intensity and styles from the shapes of the plant's structure. The different thicknesses of leaves & petals allow various light levels through the plant, which creates wonderful textures & illumination. Using a tripod, and with an SB900 Flash off the camera –
I set up various angles to shoot from with varying levels of lighting from below, behind & above.
This produced many varied tones & shadow modelling from the lighting. Try it, experiment! The extreme shallow depth of field was created using extension tubes on a 35-70 F2.8 lens, with a macro setting.

All shots need to be taken on a tripod, as when getting such a small amount in focus on each shot, precision is needed. Care needs to be taken as the proximity to the petals & blooms gets very close at times. Focus is best set by using live view and zooming to 100% to check what your focusing on, when such confined spaces as this are used.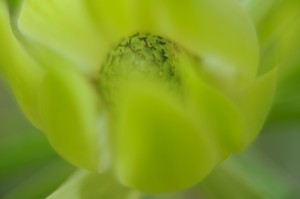 The objective was to create small architectural images, with colour, shape, and the beautiful structures allowed by these fantastic creations of nature. To do that fine adjustments are needed to get the compositions as you want them. Some compositions can be created in classic formats, others can be more dynamic, with more chaotic forms allowed to dominate the scene, to create super-real terrains. Each flower presents a different form to work with, but an important aspect is to try to either eliminate the background altogether or to allow it to go completely out of focus, and for it not to be a distracting colour or composition.

SOFT FOCUS MACRO GALLERY
Copyright © Dandelion by Pexeto